The spread of a new strain of coronavirus (COVID-19) is currently a high profile news topic. Information is regularly updated on the spread of the disease, the symptoms and how to minimise infection but it can be difficult to find information about whether to continue breastfeeding if a nursing mother has COVID-19. This article shares places to find official recommendations about coronavirus and breastfeeding.
Note: Information is subject to change as more is discovered about this new virus—please check individual websites for the latest recommendations.
What is coronavirus?
Coronavirus (COVID-19 or SARS-CoV-2) is a new virus that was first recorded in December 2019. It causes a respiratory infection which affects breathing and the lungs. Symptoms can include a high temperature (fever), dry cough and shortness of breath however a number of other symptoms are possible. For answers to general questions about the disease see:
Can you continue to breastfeed with coronavirus disease?
UNICEF, World Health Organisation, La Leche League International, Centers for Disease Control and Prevention, the Academy of Breastfeeding Medicine and Public Health England (UK government) have all issued statements about having coronavirus and breastfeeding (see below). They all advocate continuing to breastfeed while taking hygiene precautions such as frequent hand washing.
Face masks?
Most sources mention wearing a protective face mask when in close contact with the baby to minimise the risk of airborne infection. In the UK Public Health England endorse guidance from the Royal Colleges (see below) to consider wearing a face mask while breastfeeding if one is available.
Official statements
UNICEF (United Nations International Children's Emergency Fund)
Can women with Covid-19 breastfeed?
Yes. There is a wealth of evidence that breastfeeding reduces the risk of babies developing infectious diseases. There are numerous live constituents in human milk, including immunoglobulins, antiviral factors, cytokines and leucocytes that help to destroy harmful pathogens and boost the baby's immune system. There is currently no evidence that Covid-19 can be passed to the baby through breastfeeding. Considering the protection that human milk and breastfeeding offers the baby and the minimal role it plays in the transmission of other respiratory viruses, it seems sensible to do all we can to continue to promote, protect and support breastfeeding.
If you are about to have a baby, you should be supported to breastfeed safely, hold your newborn skin-to-skin, and share a room with your baby.
Should I breastfeed if I have or suspect I have COVID-19?
Yes, continue breastfeeding with appropriate precautions. These include wearing a mask if available, washing your hands with soap and water or with an alcohol-based hand rub before and after touching your baby, and routinely cleaning and disinfecting surfaces you have touched. Your chest only needs to be washed if you have just coughed on it. Otherwise, your breast does not need to be washed before every feeding.
If you are feeling too sick to nurse, try to find other ways to safely provide your child with breastmilk. Try expressing milk and giving to your child via a clean cup or spoon. You could also consider donor human milk if available in your area.
Expressing breastmilk is also important to sustain milk production so you can breastfeed your child again when you feel well enough to do so.
World Health Organisation (WHO)
Considering the benefits of breastfeeding and the insignificant role of breast milk in the transmission of other respiratory viruses, a mother can continue breastfeeding. The mother should wear a medical mask when she is near her baby and perform hand hygiene before and after having close contact with the baby. She will also need to follow the other hygiene measures described in this document
In situations when severe illness in a mother prevents her from caring for her infant or prevents her from continuing direct breastfeeding, mothers should be encouraged and supported to express milk, and the breastmilk provided safely to the infant, while applying appropriate IPC [infection prevention and control] measures.
Fact sheet: The World Health Organisation has produced a comprehensive fact sheet to accompany the above document Frequently Asked Questions: Breastfeeding and COVID-19 For health care workers, 12 May 2020 [accessed 16 Jan 2021].
La Leche League International
If someone who is breastfeeding becomes ill, it is important not to interrupt breastfeeding unless it becomes medically necessary. When any member of the family has been exposed, the infant has been exposed. Any interruption of breastfeeding may actually increase the infant's risk of becoming ill and even of becoming severely ill.
Centers for Disease Control and Prevention (CDC)
If you have COVID-19 and choose to breastfeed:

Wash your hands before breastfeeding
Wear a mask while breastfeeding and whenever you are within 6 feet of your baby.

If you have COVID-19 and choose to express breast milk:

Use your own breast pump (one not shared with anyone else), if possible.
Wear a mask during expression.
Wash your hands with soap and water for at least 20 seconds before touching any pump or bottle parts, and before expressing breast milk.
Follow recommendations for proper pump cleaning after each use. Clean all parts of the pump that come into contact with breast milk.
Consider having a healthy caregiver who does not have COVID-19, is not at increased risk for severe illness from COVID-19, and is living in the same home feed the expressed breast milk to the baby. If the caregiver is living in the same home or has been in close contact with you, they might have been exposed. Any caregiver feeding the baby should wear a mask when caring for the baby for the entire time you are in isolation and during their own quarantine period after you complete isolation.
Academy of Breastfeeding Medicine
If the mother is well and has only been exposed or is a PUI [person-under-investigation] with mild symptoms, breastfeeding is a very reasonable choice and diminishing the risk of exposing the infant to maternal respiratory secretions with use of a mask, gown and careful handwashing is relatively easy.

If the mother has COVD-19, there may be more worry, but it is still reasonable to choose to breastfeed and provide expressed milk for her infant. Limiting the infant's exposure via respiratory secretions may require more careful adherence to the recommendations depending on the mother's illness.
Public Health England
The benefits of breastfeeding outweigh any potential risks of transmission of the virus through breast milk or by being in close contact, however, this will be an individual decision. Talk to your midwife, health visitor or GP by telephone.
There is currently no evidence to suggest that the COVID-19 virus can be transmitted through breast milk. However, COVID-19 infection can be passed on to a baby in the same way as it can to anyone in close contact with you. The current evidence is that children with COVID-19 get much less severe symptoms than adults. If you or a family member are feeding with formula or expressed milk, sterilise the equipment carefully before each use. You should not share bottles or a breast pump with someone else.
Public Health England directs parents to joint guidance published by the Royal College of Obstetricians and Gynaecologists, Royal College of Midwives and Royal College of Paediatrics and Child Health:
However you choose to feed your baby, the following precautions are recommended:

Wash your hands before touching your baby, breast pump or bottles
Try to avoid coughing or sneezing on your baby while feeding at the breast or from a bottle
Consider wearing a mask or face covering while feeding
Follow recommendations for pump/bottle cleaning after each use
Consider asking someone who is well to feed your expressed breast milk or formula milk to your baby
Research
One small study found that breast milk from infected mothers did not contain the virus.
Amniotic fluid, cord blood, neonatal throat swab, and breastmilk samples from six patients were tested for SARS-CoV-2, and all samples tested negative for the virus.
The following article reviews latest research: Breastfeeding During the COVID-19 Pandemic – A Literature Review for Clinical Practice 14 September 2020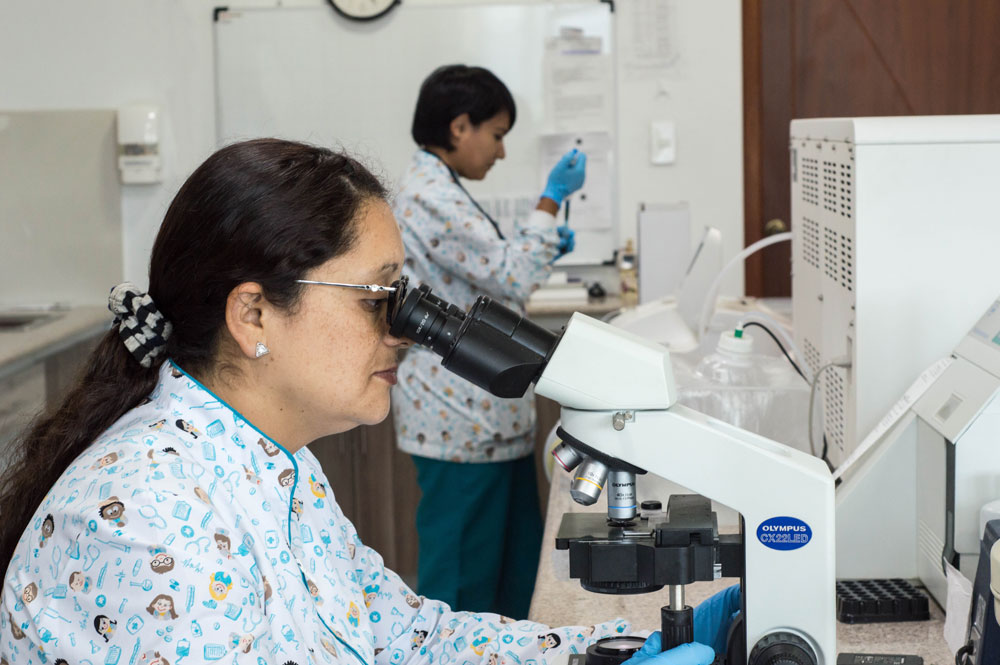 Medications
There are several places online to check the compatibility of medications with breastfeeding—see Medications and Breastfeeding. Useful information sheets include Cough and Cold Remedies and Breastfeeding and Breastfeeding and Influenza by The Breastfeeding Network.
COVID-19 vaccination and breastfeeding
Statements relating to recommendations around COVID-19 vaccination while breastfeeding include:
Public Health England
Breastfeeding
There are no data on the safety of COVID-19 vaccines in breastfeeding or on the breastfed infant. Despite this, COVID-19 vaccines are not thought to be a risk to the breastfeeding infant, and the benefits of breast-feeding are well known. Because of this, the JCVI [The Joint Committee on Vaccination and Immunisation] has recommended that the vaccine can be received whilst breastfeeding.
There is no known risk associated with giving non-live vaccines whilst breastfeeding. JCVI [The Joint Committee on Vaccination and Immunisation] advises that breastfeeding women may be offered vaccination with the Pfizer-BioNTech or AstraZeneca COVID-19 vaccines. The developmental and health benefits of breastfeeding should be considered along with the mother's clinical need for immunisation against COVID-19, and the woman should be informed about the absence of safety data for the vaccine in breastfeeding women.
The Breastfeeding Network (UK Breastfeeding Charity)
…breastfeeding women may be offered vaccination with either vaccine following consideration of the woman's clinical need for immunisation against COVID-19.
There have been no lactating mothers in the study populations of either vaccine [Oxford/Astra Zeneca vaccine and PfizerBioNTech vaccine] and the decision has been made based on an understanding of the way that vaccines are handled by a lactating mother's body. However, further studies will be undertaken as soon as possible to confirm the information on low risk.
World Health Organisation
The World Health Organisation discusses the Pfizer-BioNTech vaccine:
If a breastfeeding woman is part of a group (e.g. health workers) recommended for vaccination, vaccination can be offered. WHO does not recommend discontinuing breastfeeding after vaccination.
WHO's SAGE [Strategic Advisory Group of Experts on Immunization] is expected to review other vaccines in the coming months.
Centers for Disease Control and Prevention (USA)
Maximising milk supply
Breast milk has many antimicrobial factors to protect a baby or toddler against infections and support their immune system.1 The more breast milk they can have the stronger the protective effect but even small amounts can be helpful. For information about maintaining or increasing a breast milk supply or for help with returning to breastfeeding (relactation), useful links include:
A breastfeeding specialist e.g. an International Board Certified Lactation Consultant (IBCLC) can provide tailored support and information to maximise a mother's breast milk supply or bring back a milk supply after breastfeeding has ended. And see the next section for more places to find help with common breastfeeding challenges during social isolation.
Breastfeeding support during social isolation
Although face to face breastfeeding support may not be possible during isolation phases against the spread of the virus, breastfeeding help is still available. For a discussion of the different levels of breastfeeding support generally see Why Hire an IBCLC? and for additional options during social isolation see:
Information online. Breastfeeding Support (this website) offers help and information on a variety of breastfeeding challenges.
Telephone support. Breastfeeding counsellors are very skilled at helping with many common breastfeeding challenges by telephone. In the United Kingdom contact the National Breastfeeding Helpline or contact La Leche League GB's Helpline. For telephone support internationally search for a La Leche League Leader in your country via La Leche League International's Get Help page and the Australian Breastfeeding Association has a Breastfeeding Helpline in Australia.
Online support. Some breastfeeding charities offer support online e.g. La Leche League GB has provision for submitting a Help Request or has live chat availability on their website.
Online meetings. Several local breastfeeding support groups will be hosting meetings through social media or online video conferencing instead of face to face.
Specialist support. Some IBCLC lactation consultants may offer one-to-one consultations through video link if they are unable to visit in person—see Find an IBCLC Lactation Consultant, on the Lactation Consultants of Great Britain website.
Coronavirus and pregnancy
For answers to common questions about having COVID-19 during pregnancy see Coronavirus Infection and Pregnancy from the Royal College of Obstetricians and Gynaecologists.
Skin-to-skin contact after birth
The Royal Colleges, UNICEF and the World Health Organisation recommend mothers and babies should stay together after birth even if they have symptoms of coronavirus or a confirmed COVID-19 infection:
Mother and infant should be enabled to remain together while rooming-in throughout the day and night and practise skin-to-skin contact, including kangaroo mother care, especially immediately after birth and during establishment of breastfeeding, whether they or their infants have suspected or confirmed COVID-19 virus infection.
Can parents touch and hold their newborn baby if they have Covid-19?
Yes, touch, comfort and communication are vital for the baby's wellbeing and development. Good hygiene habits are important and will keep the risks to baby as low as possible.
Should mothers and babies be separated during the Covid-19 outbreak?
Whether or not the mother or her baby has suspected, probable or confirmed Covid-19, she should be enabled to remain with her baby, practice skin-to-skin contact and room-in throughout the day and night, especially after birth and during the establishment of breastfeeding.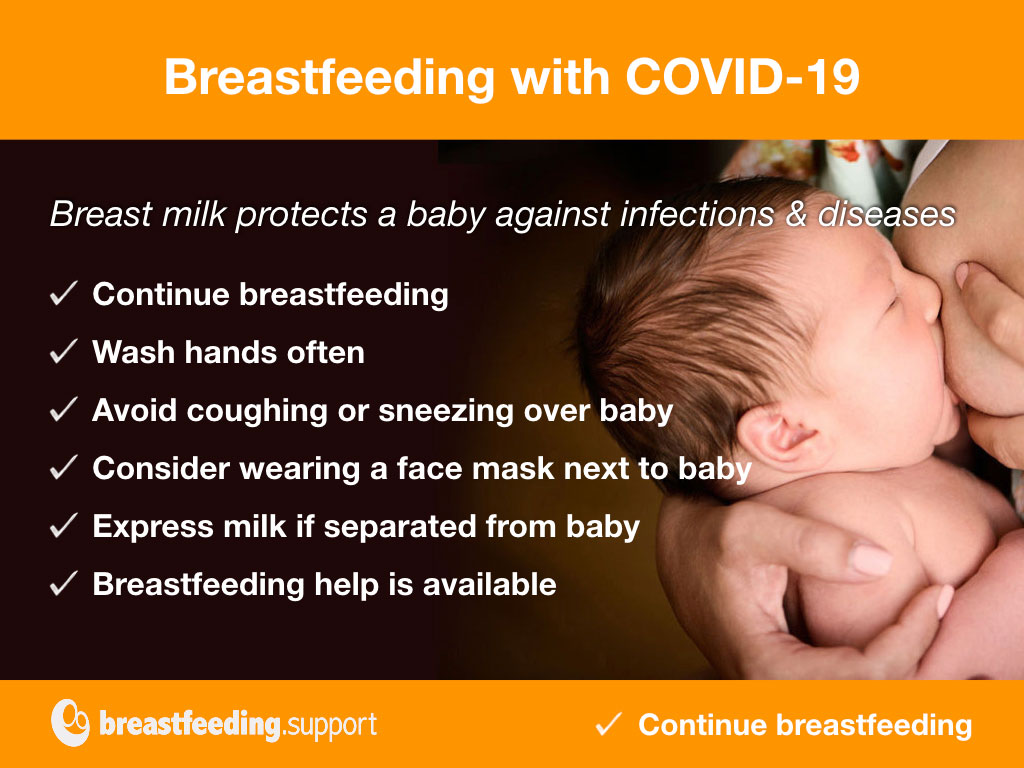 Summary
Breast milk has many specially targeted immune factors and breastfeeding can help protect a baby against many infections and diseases. UNICEF, World Health Organisation, La Leche League International, Centers for Disease Control and Prevention, the Academy of Breastfeeding Medicine and Public Health England have all issued statements about breastfeeding during coronavirus infection. The general consensus is to continue breastfeeding while taking careful hygiene precautions to minimise risk of infection.
Information is subject to change as more is discovered about this particular virus—checking individual websites for the latest updates is recommended.